As I am trying to start blogging - I love to stalk blogs...just not sure about actually finding the time to blog myself - I am ending this day with a Blog Mixer Linky Party that
Yearn to Learn
is hosting. This is a great way to find some new blogs that you might not know about!
Here's what you need to find and list.
1. A blogger who is a "New Kid on the Blog"
(Let's say someone who has blogged 2 months or less and has less than 200 followers)
2. Post a blogger in your same grade level
3. Post a blogger in a different grade level
4. It's all about the button. Find a cute blog button and post it.
Ready, Set, Go!
1. My kid blogger is
The Bubbly Blonde Teacher.
Be sure to check her out!
2. I love all of the second grade blogs! I will have to say that
Swimming Into Second
is great - you should check her out. She is very creative and teaches next door to me :)
3. I fell in love with Shai Winston the first time I ran across her website over a year ago. Now she is moving to 3rd grade and has started blogging. Check out her blog at
Ms. Winston's Teaching Blog
.
4. I LOVE the blog button from
A Teeny Tiny Teacher
. I think it's adorable.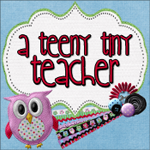 Go link up with
Yearn to Learn
and start hunting around for those blogs to spotlight!