Are you like me and love giveaways? If you are, you need to check out Amanda over at
Teaching Maddeness
. She has reached 100 followers in just ONE short week! Her blog is too cute and best of all I've already gotten some great ideas! She is changing her classroom theme to monsters and I am leaning towards that way also. Click the link, check it out, and enter!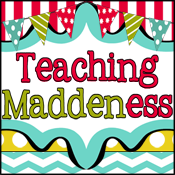 To go along with the monster theme....check out the cute things I found in the Dollar Section at Target.
My hubby took me to lunch and to Hobby Lobby yesterday for my birthday. I bought a few canvases to paint a few monsters like Amanda did. I think they are cute...we will see how mine turn out.
Have a great weekend! I'll be back with pictures of a few Pinterest projects I am finishing up soon.